Network management systems and processes are broken, which is bad timing for an industry undergoing such tremendous transformation. Innovations that address scale, automation, and intelligence are emerging, but they must be implemented with the big picture in mind. This picture must include the essential and data-rich environment of the outside plant, and must be powered by a management system that is capable of facilitating the desired transformation and promoting increasingly efficient business operations.
In this three part blog series, we'll be diving into what components of a network management system we believe to be paramount to achieving this goal and how 3-GIS has implemented each of them into our own solutions.
1. Services accessed on-demand via web-browser
Your company is telling its managers that in order to be competitive the business needs to be different, move faster, use every resource. You have to take your operational systems and make them more agile, flexible, and scalable while becoming more cost-efficient, but how? Our answer: get on-demand access to your business applications from an internet browser anytime, anywhere.
In 2007, with that idea in mind, 3-GIS built the first web-based fiber network management system to expedite implementation time and communication speed; enable mobility; decrease complexity, maintenance requirements, and cost of ownership; and facilitate scalability for projects of all sizes.
Speed: The biggest benefit of a thin, web-based client over a traditional desktop application is communication speed. A thick-client application requires significant bandwidth to sync data with the server so that the data can be shared with all users. Because a web-based application transfers small amounts of information constantly, users always have nearly instant access to the most recent changes.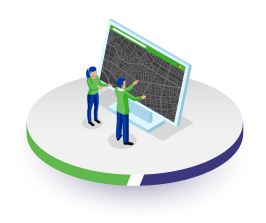 Mobility: In an industry that runs on data, literally, service providers and engineering firms have a fundamental need to be able to access their network data when and where necessary. Web-based architecture makes achieving this goal easy because it enables mobility. In the case of 3-GIS Mobile, users are able to work offline and then sync with the system when network access is available. After a quick sync, field users immediately see all updates created by 3-GIS Web users and 3-GIS Web users see the updates made in the field.
Cost: Web-based applications also massively reduce the cost and complexity of software ownership and maintenance. Web-based architecture requires zero client maintenance other than ensuring that each client computer has a web browser, greatly reducing the burden on the IT department. In fact, one study shows that 50% of cloud adopters required fewer internal IT resources. Any time a change or upgrade is applied to the server, all users simultaneously receive the change, ensuring that everyone is always working in the same version.
Scalability: Being designed for the cloud offers many simple scalability opportunities not available in a client-server architecture. Because processing is performed on the server, the hardware requirements for client machines are only those required to run and update the browser. If additional hardware resources become necessary, those requirements only apply to the server, allowing administrators to scale production internally with minimal interruption to users
2. Represents geospatial location and the attributes of physical assets
The true advantage of a spatially-driven system happens behind the scenes. Spatial awareness allows for precise mapping of network features, and those features can inherit information from the map itself, adding location and proximity data automatically. What this means for you is that the time it takes your operations team to "move, add, or change" a service now takes only a few keystrokes and seconds. Geospatial technology takes the where, what, and how of your physical network then transforms it into a data model.
Without spatial indexing, databases would be forced to query all similar records, increasing hardware requirements and processing time. Users would then have to comb through the returned records to find the information they need. Instead, using Esri's GIS platform allows 3-GIS to provide several ways to visualize data, from attribute-driven symbology to various map views to adding external layers. Features can be selected or queried based on a location or service area, narrowing the scope of the data that the server, and subsequently the user, must search through and increasing the speed of processing a query.
Using maps as a spatial reference also allows 3-GIS to mimic the real-world situations informing the thought processes of the engineers who design networks, the field technicians performing inspections, the construction crew expanding network infrastructure, the analyst identifying a fault, or the manager viewing expansion costs - providing enterprise-wide value.
---
Make sure you subscribe to the blog using the link above to join the discussion on the four remaining pillars.