While fiber is considered the future, copper is still very much a part of the present and will continue to play a key role in providing connectivity. Many of today's providers are struggling with maintaining forward thinking and relevant management systems that consider their existing assets while also allowing for the flexibility in gaining a competitive advantage by deploying newer technologies. 3-GIS | Network Solutions has historically provided tools to manage fiber network assets including conduit, structures, and conventional and blown fiber within a single configurable interface.
In order to meet the needs of our customers today, 3-GIS has been extending our solution to support all the realms of network facilities in one system to include documenting and managing the copper plant.
Why bother with copper plant?
Copper is still a foundational component of most communication networks around the world today. It offers a less expensive deployment option than FTTH which, with an average deployment cost of $3,000/home connected1, is currently not financially feasible everywhere - yet. In fact, copper wire remains the majority of the world's 700+ million fixed-line access connections in the world to this day1. These copper-based networks have not faded away with the advent and surge of fiber networks, and they are not likely to go away anytime soon especially considering the substantial financial expense already invested in those networks. Service providers are still and will continue to look for ways to exploit and extend their copper networks for many years to come.

What is the 3-GIS approach with copper?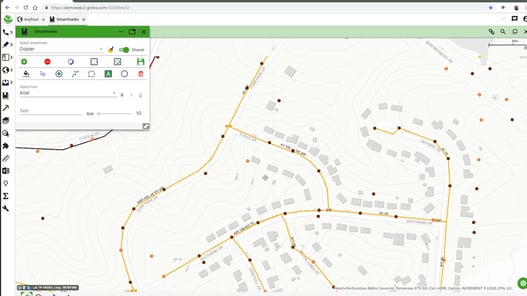 3-GIS provides a mechanism to document the copper access network in a central repository with easy update and retrieval facilities while also providing the ability to enforce drawing standards. The copper management solution is aligned with the overall information technology vision of 3-GIS through the use of simple architecture, intuitive design, and industry-standard web-based environments. It leverages an application that is configurable and easily aligned to business processes and engineering operations while providing a scalable architecture for the full range of network documentation needs.
Ultimately, the solution will model the connectivity of the complete copper network from any terminating device to a main distribution frame (MDF) inside a central office in the same system as the fiber network. The 3-GIS solution is designed to address the inventory and connectivity of copper cables, equipment components, and the civil network, all within a single database. 3-GIS provides our customers with the ability to model their infrastructure using their existing network data. Network map views and intelligent symbols will allow network managers to visually navigate their physical infrastructure, quickly adding or locating equipment and connections. Network managers can track cabling and equipment on a detailed level. Very briefly, our aim is to develop a system that is easy-to-learn, easy-to-use with a simple intuitive user interface.
---
1. https://www.isemag.com/2019/06/induction-neutralizing-transformer-fiber-like-speeds/