Ever have to send the service interruption letter and have your PR team explain the situation to the news media? In November 2018, internet, cable tv and phone customers across 3 southeastern US states received one of these letters from their service provider. The cut fiber line left affected customers without service for nearly one full day, leaving the provider with the unenviable task of apologizing to unhappy customers.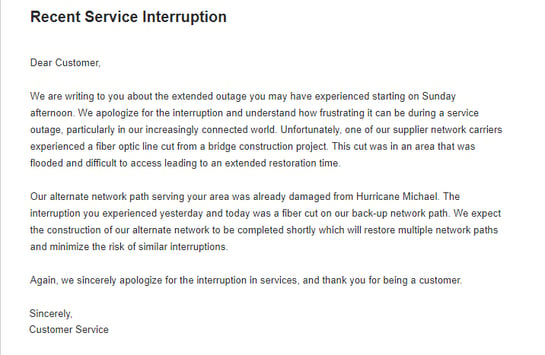 Outages are inevitable in the telecom industry, but service providers must be able to act quickly to get customers back online and to minimize damage to its reputation. Outages are not a secret and can be fodder for public comment as exampled with downdetector.com or istheservicedown.com. Live outage maps are published online for everyone to see, giving service providers nowhere to hide from slow response times. Retaining current customers and attracting new ones is a big job and expense for service providers, those efforts can quickly be undermined by a reputation for unreliable service.
Along with the pain and suffering the cost of an outage
Internet outages leave customers frustrated, and for good reason. Work slows to a crawl in many industries when service goes down and the economic impact is significant. According to a report from Gartner, an hour of downtime costs a business $42,000 on average. That number is much higher for businesses in industries such as e-commerce.
For customers getting internet service at their home, the stakes are not as high from a financial perspective, but the frustration is still there. In the connected world we live in home internet customers rely on service for everything from being able to work from home to streaming video. Every minute of an outage equals money and productivity lost so customers need providers to act as quickly as possible to get data flowing again.
Get quick restoration by rolling a truck to the right place
Within 3-GIS | Web there are tools that make it easier for service providers to find the source of an outage and restore service faster.
Find the single point of failure fast
When multiple locations are reporting an outage the Single point of failure tool allows users to identify the pieces of equipment those locations share to deliver service. The tool will locate those pieces of equipment on the map so crews can quickly be dispatched to the right spot to fix the outage.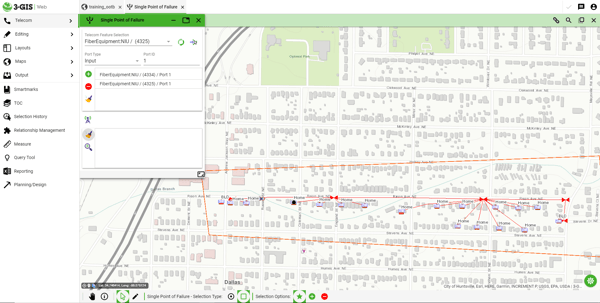 Single point of failure tool
Pinpoint the location with the OTDR trace
The OTDR Trace tool allows users to pinpoint the location of a potential fault using the distance from signal reading. Users can select the piece of equipment experiencing the outage and input the distance the signal is traveling before reaching the fault according to reading. The OTDR trace will identify that point on the map and provide latitudinal and longitudinal coordinates.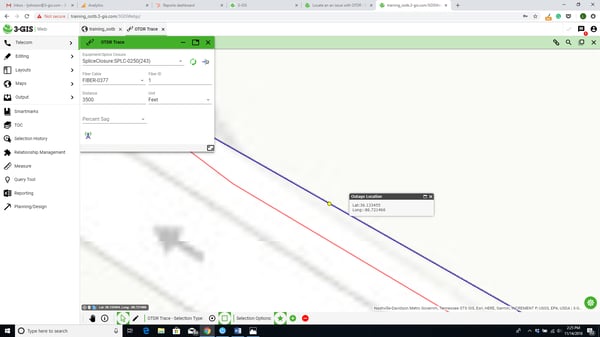 OTDR tool
For more information on how 3-GIS can help with your fiber network management please contact us.