Creating content that stands out online can be tough, especially as digital content continues to grow as the medium of choice. Choosing topics that resonate with the audience may be able to catch their attention, but telling a story that engages and holds their attention presents another challenge. In response, several companies have put increased effort into creating interactive content–such as having viewers choose which version of an ad they view–while others have developed ways to allow for easier delivery of captivating content. One company you may be surprised to learn has supplied a platform for interactive storytelling is Esri.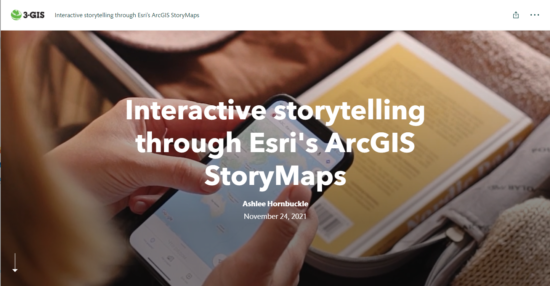 Esri's ArcGIS StoryMaps allow authors to create an immersive experience for the audience, using various forms of media and spatial data to enhance the narrative. Built in guides help ensure stories can be easily ingested by users whether on a desktop or mobile device, and publishing updates is seamless with no downtime involved.
With an intuitive interface, integrated security options, various presentation options, and preloaded templates, getting started is easy. Below are three ways you can bring your StoryMaps to life and engage your audience.
1. Use interactive maps when discussing places of interest
As the name implies, storytelling through the use of interactive maps and spatial data is one of the key features of using StoryMaps. Maps as a standalone asset can provide valuable insight into a topic. From a blog post featuring "hidden gem" restaurants in lesser-known places to an article detailing population growth, coupling a story with maps and spatial data helps give us a level of understanding that words alone may not.
If your story includes simple point and click map content, StoryMaps provide the tools needed to create a map directly in the platform–referred to as express maps. Using the integrated express map functionality is a great option to quickly add a visual aid, while providing further context. If your narrative includes numerous destinations, a guided map option provides the perfect marriage between maps and explanatory text.
Incorporating map data is not limited to the StoryMap interface. Maps created and hosted in ArcGIS Online can be embedded into your story without losing any valuable data. This provides an opportunity to integrate more complex maps, such as heat or density maps, with increased functionality.
2. Organize your embedded media
While adding spatial data is a definite bonus, it is not the only way StoryMaps allow authors to provide supporting materials. Other content such as pictures, videos, audio, and timelines add depth to the narrative by giving viewers additional points of reference.
There are a number of ways to add media directly to your story, while keeping topics in clearly defined sections. Photo albums enable the hosting of multiple images in a designated area of the story to reduce the need to stack multiple images. Slideshows enable the use of images, videos, or maps as backgrounds juxtaposed against blocks of text to help compare and contrast different elements. Similarly, sidecars allow the use of images, videos, or maps to support text contained on either side, with the added benefit of being able to embed sites or other StoryMaps in the frame.
3. Customize to your audience
Placing emphasis in the right place is an important facet of creating any story. Using a theme, whether custom or preconfigured, helps highlight significant information while maintaining a uniform appearance by applying specified formatting such as font styles, sizes, and colors based on the type of text (i.e., paragraph, header, bulleted list). Even still, adding corporate logos and branding guides can add credibility and help you stand out as a reputable source before the first words are read.
Just as crucial as being able to customize appearance is the ability to control sharing. Because StoryMaps can be restricted to internal access only or published out for public consumption, sharing restrictions help add a layer of protection to data necessary to the publication. For example, by enabling access only to the members of your organization, you can safely include protected data useful to your stakeholders without the worry of outside parties gaining access.
While the amount of online content continues to grow, so too do the options available to deliver content. All forms of content have the potential to capture the audience, but making your content memorable can determine whether or not your message stays with the audience. With the tools to enhance your narrative, Esri's ArcGIS StoryMaps can help you deliver a powerful message that leaves a lasting impression on your audience.
Want to experience how the narrative can change when applied in a StoryMap? Check out this post in StoryMap form.