Welcome to the 2023 Q1 edition of Along the Path. In this edition, we dive into field mobility and how directly connecting network data to field crews can boost efficiency throughout the entire enterprise.
Can a mobile device alone transform field data capture?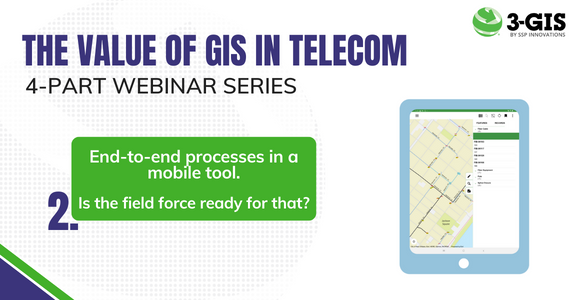 The process of eliminating data silos, streamlining disjointed workflows, and accelerating data transfer takes more than simply moving from paper to apps. Watch this on demand webinar to see how coupling easy to use field applications and centralized processes can promote better data capture without inconveniencing the crew.
How does 3-GIS | Mobile streamline field processes?

3-GIS | Mobile puts network data directly in the hands of field crews to help address the unique challenges of building and restoring fiber. Watch this on demand webinar to see ways mobile adoption can help your field crews achieve more per trip.


Want to achieve greater location accuracy?


Connecting to an external GNSS device is a proven way to collect high accuracy location data. See how to get sub-foot accuracy in 3-GIS | Mobile in this episode of Field & Screen.

Why is mobilizing the field force so important?

Maximizing the use of mobile tools is one of the many ways service providers and engineering companies alike are improving data quality. Two telecom industry veterans give insight into digital data capture and its long-term advantages for enterprises.

Read more