3-GIS can remove the complexity from fiber network management and add efficiency to your day-to-day operations. You will realize the value of 3-GIS as soon as your operations teams begin using it to work on the network. But changing management systems can be intimidating, even when you know the end result will be positive. 3-GIS has processes and resources in place that make getting started with our solution fast and easy. Here are 4 steps you can take that will help you realize the benefits of 3-GIS even faster:
1. Let your 3-GIS Project Manager lead the implementation:
3-GIS has procedures in place that make implementing our web-based software within your organization simple. Every new customer is assigned a project manager whose job it is to make sure the implementation goes smoothly. You can relax knowing 3-GIS has a trained professional devoted to getting our software deployed within organization so your staff can quickly get to work. To learn more about the 3-GIS implementation process click here.
2. Take the self-paced training:
3-GIS offers training that can have users working in our software in as little as a day. Our quick start online training courses give users 24/7 web access to a professionally developed curriculum. Video tutorials walk users through how to use all the features and functions that make 3-GIS a powerful network management tool. The courses are self-paced allowing users to train at their convenience. The quick start online training tracks your achievements and allows administrators to monitor user achievements and time spent in the course. Current customers can register for the quick start online training course here.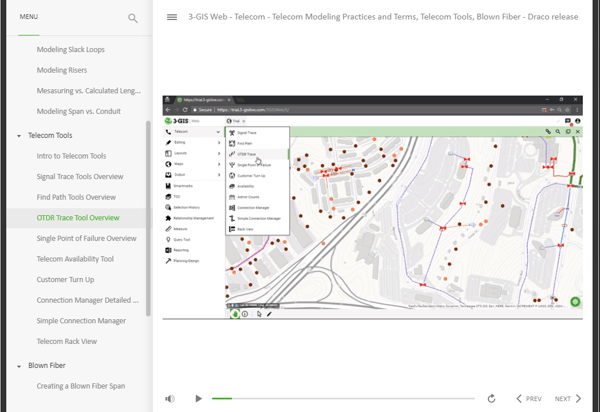 The 3-GIS quick start online learning course
3. 3-GIS data conversion services move your existing data fast and accurately:
Moving your existing network data into a 3-GIS database probably feels like a big task, so let us do it for you. 3-GIS has a team that can convert your data quickly. They have migrated network data for new customers both foreign and domestic, including municipalities, service providers and engineering and construction firms. 3-GIS can convert data from a wide variety of sources including other vendors' software, CAD files and excel. To learn some steps you can take to make data conversion easier read our Making data migration easier blog.
4. Dive into the 3-GIS knowledgebase:
The 3-GIS knowledgebase (KB) is a comprehensive online resource that new and experienced users will find valuable. There you will find user guides that give step-by-step instructions for all the tools and functions in 3-GIS. The KB also features an extensive reference library which includes information on supported basemaps, a glossary of terms you will find in 3-GIS and information on feature types and configurations. Customers can also turn to the KB for information on new tools and features that are released with product updates.
To learn more about how 3-GIS makes it fast and easy to get started with its software watch the Onboarding made easy webinar.