When SSP announced the acquisition of 3-GIS in January, one of the key identified synergies was to bring SSP's market leadership around the Esri utility network to the 3-GIS line of telecom products. Prior to the era of the utility network, 3-GIS's products were already built using cutting-edge web-based technology and were not tied to the legacy geometric network. This allowed 3-GIS to create an extremely scalable and performant outside plant management (OSP) system while allowing any user to access the connected model via a web browser.

Esri initially introduced the utility network in 2018 with a focus on electric, gas, and water networks, but has since extended the platform to telecom networks through its support of nonspatial objects which allow us to manage more complex data inclusive of fiber optic buffer tubes, glass strands, splice points and more. This support comes along with full utilization of the utility network connectivity and related functionality.
Our goal at SSP was to bring all the lessons learned in our 5 years of utility network R&D to the 3-GIS team which was already strategizing around how to consume the power of the utility network (UN). We've now been working together for just over two months with a keen focus on our joint UN strategy. And with that, I'm excited to announce our plan for 3-GIS alignment with the Esri utility network within 2021!
Core 3-GIS Utility Network Support
The foundation of our support for the UN will be maintaining our powerful web user interface while exposing the new functionality of the UN directly through the web browser. The utility network is well suited to support 3-GIS Web since all of the functionality is exposed through web services. We considered building some aspect of the 3-GIS functionality within ArcGIS Pro but, upon review, continued use of the browser offers too many advantages to ignore!
While the user interface will continue to be web-based, the utility network model will be layered into the 3-GIS geodatabase inclusive of the telecom domain network and the shared structure network (poles, cabinets, etc.). This will allow the telecom features to interact with an electric domain network, if present, inclusive of the joint use of electric poles and conduit and even the eventual tie between your electric power feeds/meters to the telecom network as power sources for the telecom equipment.
New Utility Network Functionality
In addition to the inherent benefits of using an Esri UN-enabled system, we will expose new UN functionality within the browser for both our existing and new users of 3-GIS Web and I'd like to cover three exciting features here today.
First, we will be harnessing the power of ArcGIS Network Diagrams within the UN to provide system-generated persistent splice diagrams of the 3-GIS fiber splice points. This visualization of the underlying fiber connectivity utilizes out-of-the-box UN functionality with a configured template. By exposing these diagrams within the browser, we will allow users to visually review the strand level connectivity within a splice case at the click of a button.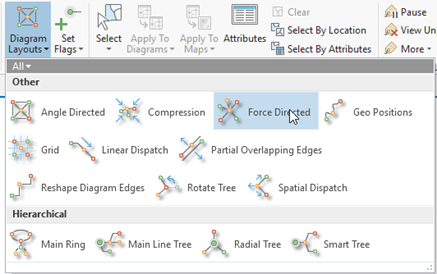 Next, we will further extend our usage of ArcGIS Network Diagrams to model a potentially large geospatially connected area as non-spatial single line diagram. This could be based on a fiber or OTDR trace within 3-GIS Web or even based on a connected circuit / light path managed within the system. The following image shows an example single line diagram created by Esri within ArcGIS Pro. Our twist is that once again, we will expose this functionality directly in the web browser.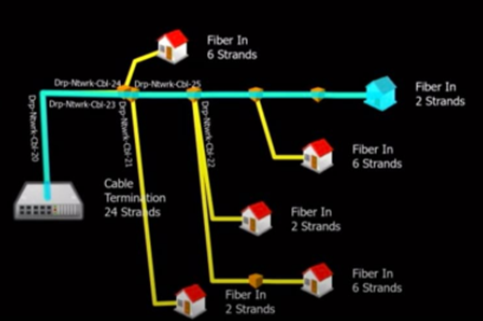 Finally, in 3-GIS today, we manage coincident fiber cables that exist within the same conduit, trench, etc. as geographically coincident features. The UN will allow us to take that geographically accurate model and to view it using cartographic cable offsets which will allow us to see the individual cables more clearly on the map. We will allow the user to toggle on/off the cable offset view directly within the primary web map thus providing the best of both the geographic and cartographic worlds!
While this short list covers just a few of our initial UN-fueled features, keep in mind that this functionality will be added in addition to the rich set of GIS telecom features already available within the 3-GIS platform. And not to beat a dead horse, but it will all be available in the same 3-GIS Web application you've come to know and love today. We're excited to partner with Esri on this endeavor to allow them to truly realize their vision of creating the next generation of telecom management!
3-GIS Product Continuity
You may or may not know that 3-GIS Web is utilized by some of the largest telecom providers in the world. Amongst other features, that coveted spot was earned based on the system's ability to scale and perform with extremely large telecom datasets. Our commitment to our existing users is that we will not compromise either our performance or scalability while adding in our support for the Esri utility network. It will simply be a net new addition of functionality to the existing powerful 3-GIS platform.
Further, the UN functionality will be available to existing 3-GIS customers as a modularized implementation meaning that you can take advantage of the new functionality when you are ready for it. We know the continuity of the 3-GIS products is of utmost concern to our customers and we, and Esri, will support your transition to the UN at your desired pace and direction. As a reminder, because 3-GIS is already based on web GIS with no ties to the geometric network, your future path with the Esri technology is fully aligned and supported today and will continue to be tomorrow.
In Summary
We are actively working on implementing Esri utility network support within the 3-GIS products and will have product demonstrations available by the Esri user conference this July. The combined team of SSP and 3-GIS technologists have worked closely with Esri on bringing the utility network to fruition within the telecom market. As we move forward, we will provide all of the benefits the UN has to offer while continuing to offer our existing industry-leading functionality all within a single web application. We're excited to speak with you further on this topic and welcome your questions!